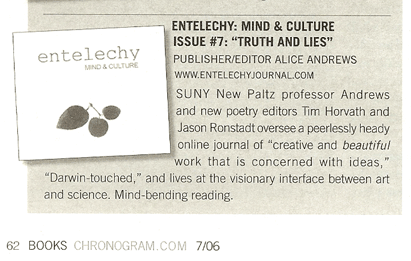 SUNY New Paltz Psychology department faculty member Alice Andrews is the editor and publisher of an online journal, Entelechy: Mind and Culture. Entelechy (see review at left) publishes an eclectic mix of poetry, short fiction, essays, and visual art and makes for stimulating browsing. Evolutionary biology is a central theme. The "about" page describes it as follows.
Concerned with ideas — psychological, philosophical, spiritual, scientific, political, mathematical, semiotic, memetic, postmodern, evolutionary, and revolutionary.

Darwin-touched — Evolutionary fiction and biofiction; Darwinian literary criticism; as well as essays, art, poems, and reviews with evolutionary themes.

Visionary — e.g., work by artists and writers who want to connect with their audience; who are driven to heal or raise the consciousness of their audience (i.e., who are compelled to affect their audience emotionally, intellectually, spiritually, aesthetically, morally); who are fearless in style and content.

3rd-culture —i.e., work which attempts to bridge the arts and humanities with science. Work, then, by artistic and literary scientists; as well as scientific/science-interested writers and artists, and anything in-between and beyond.
Many contributions highlight sexuality, attraction, romance, and beauty, enlightening them as lived experiences of human relationship, expressions of desire—and as an element of human biology, and so, a product of our evolution.
Andrews has explored this area in a novel, Trine Erotic, described at Amazon.com as follows:
[P]erhaps the first novel to explore evolutionary psychology (the new 'science of the mind'). This 'novel of ideas' — what author Andrews calls 'evolutionary fiction,'biofiction,' and 'meta-seductive fiction'– also explores why we write: to seduce (as mating strategy), to process, to heal ourselves and ultimately readers, to find meaning.
The latest issue on the web site is Fall 2009, issue #9, and a message on the home page states that the journal is not accepting new submissions. There is plenty of browsing still to be had. It would be unfortunate if the publication were closing down for good.
Andrews is helping to set up an Evolutionary Studies program at New Paltz, on the model created by David Sloane Wilson and colleagues at SUNY Binghamton. Best luck, Alice, in your efforts!